Carnivorous Plant Newsletter
Volume 21, Numbers 1 & 2, March & June 1992, page 6

NEW CULTIVARS
Pinguicula 'Gina' - a new decorative CP
--- Miloslav Studnicka • Liberec • Czechoslovakia
The novelty is a hybrid of the species P. agnata (male) and P. zecheri (female), from different subgenera Isoloba and Pinguicula. The winter rosette is similiar to the one of P. agnata. The summer rosette, consisting of ±13 leaves 8 by 6 cm, measures about 15 cm across. These leaves also resemble P. agnata, but they are a little rolled up on the margins.
Flowers are produced by the winter as well as by the summer rosette. The corolla consists of two lips (bilabiate) and it measures 38 by 33 mm. The corolla tube is 10 mm long. The greenish-yellow spur is 17 mm long. These both are glandular haired and they contain an angle 140°. There are three differently coloured zones from the margins to the centre of the corolla, as seen in the photo. The mouth of the corolla tube is marked by a yellow band. The stigma violet in the center and white in the margins.
The hybrid cannot produce any seeds. It is propagated by means of culture "in vitro" in the Botanic Gardens in Liberec (Czechoslovakia) .
The described cultivated variety is dedicated to our colleague Gina N. (Mrs.), who has cooperated in our conservation program of the critically endangered species Pinguicula bohemica.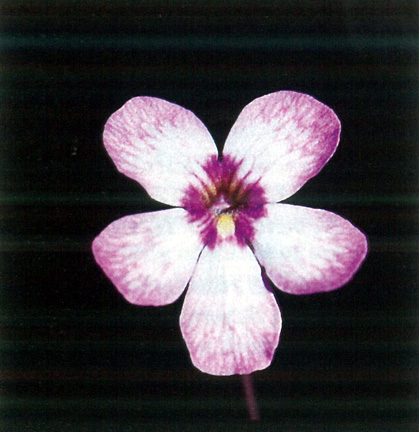 Close-up of flower of Pinguicula 'Gina'. Photo by author.