Carnivorous Plant Newsletter
Volume 31, Number 3, September 2002, page 83; Back Cover
New Cultivars
Keywords: cultivar: Pinguicula moranensis 'Libelulita'.
Pinguicula moranensis 'Libelulita'
Submitted: 22 April 2002
In 1998, the Botanical Conservatory at the University of California, Davis, was given an unsolicited gift of a crate of field collected plants, including many tens of dormant rosettes of heterophyllous Pinguicula from southern Mexico. We accessioned these plants into the collection, and over the next several years observed their characters. All the plants turned out to be Pinguicula moranensis, as we anticipated. The most striking specimen has a number of remarkable attributes, and is being given the name Pinguicula moranensis 'Libelulita'. This plant has already been mentioned in the pages of this journal (Carniv. Pl. Newslett. 29:2, p.55, 2000), when one of us (BAR) reported on how the only specimen we had of this plant nearly rotted to extinction.
In foliage, Pinguicula moranensis 'Libelulita' is not particularly different from any of the other many clones of Pinguicula in cultivation, but in flower it is so striking that some horticulturists have remarked that it nearly appears to be a new species (see Back Cover). The five petals are large and square-tipped. They are overall pink-purple, deeper so on the distal 2/3rds, and pale to near-white closer to the petal bases. Where the petals fuse, they suddenly darken to a deep velvet red, marked with a few white streaks on the lower-most petal. For us, the most amazing feature of this cultivar is the bold petal venation. This venation reminds one of us in particular (EMS) of the reticulated network of veins visible in the transparent wings of dragonflies.
Since 2000, we have industriously propagated the plant vegetatively. (It is amenable to leaf cuttings.) This plant will first be offered to the general public at the annual University of California, Davis (USA) plant sale in October. We will subsequently distribute Pinguicula 'Libelulita' to specialists around the world. (Specimens have already been sent to other horticulturists in the USA and Europe.) Pinguicula moranensis 'Libelulita' should only be propagated by vegetative means as there is no guarantee that seed progeny would maintain the cultivar's subtle characters.
The cultivar name was coined by Elizabeth M. Salvia on 18 October 2000, and submitted by us for registration on 22 April, 2002. The Spanish cultivar epithet means "little dragonfly". Spanish was chosen to honor the country that houses Pinguicula moranensis. According to ICNCP rules, either Pinguicula 'Libelulita' or Pinguicula moranensis 'Libelulita' may be used for this cultivar. Additional photographs of Pinguicula moranensis 'Libelulita' may be seen archived at http://www.sarracenia.com.
--- Barry A. Rice • Davis, CA • USA; Elizabeth M. Salvia • Davis, CA • USA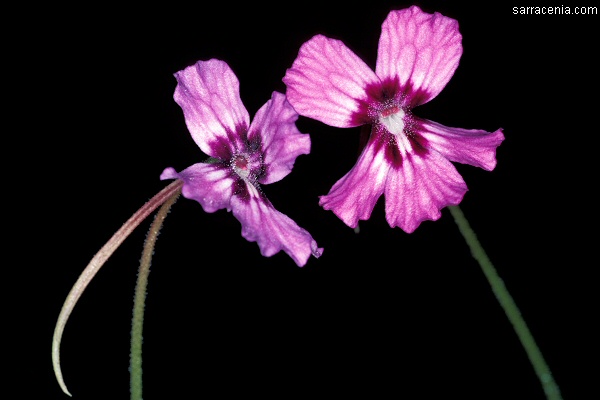 Back Cover: Pinguicula moranensis 'Libelulita' flowers, photo by Barry A. Rice.